[ad_1]
NEW DELHI: Banking on huge acreage of Kharif (summer) crops amidst good monsoon and adequate water storage for Rabi (winter) season, the Centre on Monday revised India's food-grains production target for 2020-21 to an all-time record of 301 million tonnes (MT) – 4 MT more than the output of 2019-20 – and decided to put focus on pulses and oilseeds.
Accordingly, it raised the production target of the main oilseed, mustard, from 9.2 MT to 12.5 MT, syncing it with ongoing efforts to reduce the country's import bills, and gave a hike of 5.1% to the minimum support price (MSP) for procuring mustard in the next marketing season compared to 2019-20 season.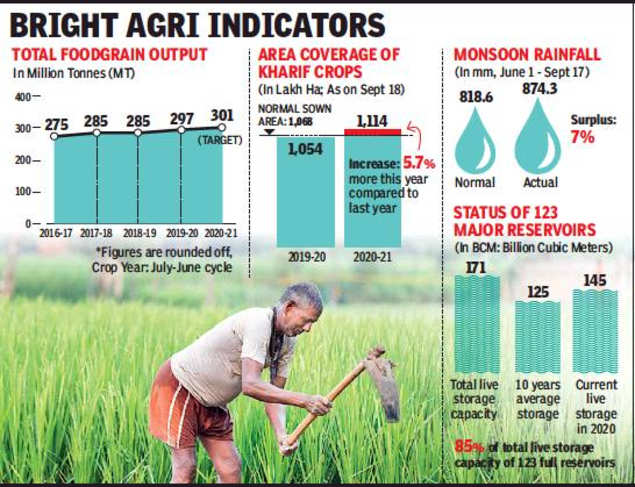 Only lentils (popular pulses) attracted a bigger hike than mustard among the six crops whose MSPs were approved by the Union cabinet on Monday. Target of production of all pulses together, including lentil, gram and others, was set at 25.6 MT for 2020-21 crop year. Similarly, the target for all oilseeds has been set at 37 MT.
The new target for the country's food-grains production was shared during a day-long deliberation at a conference on preparation for the upcoming sowing season of Rabi crops which will begin in certain parts of the country after mid-October.
"Great emphasis is being laid on production of oilseeds and oil palm plantation indigenously to reduce import of edible oils. Besides, the government has taken multiple steps to reach this new record target of food-grains production," said Union agriculture minister Narendra Singh Tomar.
He told TOI that the new farm legislation will ensure that the farmers get a better price of their produce. "The Bills, passed by the Parliament, will give farmers freedom to sell their produce at different places. The provisions in the legislation on 'contract farming' will attract large private investment, leading to rapid development in the agriculture sector and overall rural economy," said Tomar.
[ad_2]